We had been reading through (lampooning) "A Gentlemen's Guide to Passages South: The Thorn less Path" by Bruce Van Sant to find helpful tips for sailing through the Caribbean against the trade winds. He promised us that if we followed his every word then our voyage would be one of calm wonderment. So far we must have been doing something wrong as it had been anything but. His premise was that it would blow for a few days and then calm down to a steady 15 knots when we could kick back in our bikinis and sip on a gin and tonic every night at 5pm whilst at anchor. This seemed like the exotic cruising trip that we all wanted, but had yet to materialise. Fifteen knots of wind? We could but only dream. And what is that title all about, no women allowed on boats?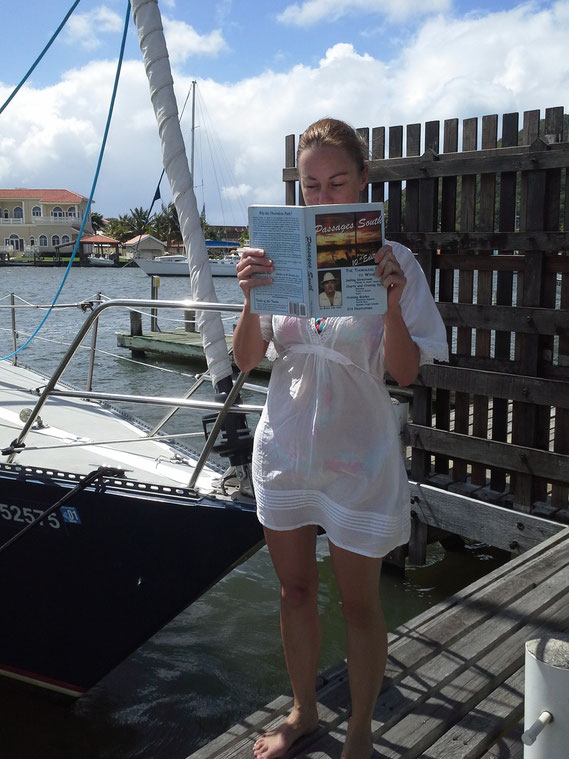 Anyway he drummed into us that to sail along the North coast of the Dominican Republic, it is best to do so at night and close to the shore as the large land mass would give off night lees: the cooling off of the land at night which is greater than the cooling of deep water creates a thermodynamic anomaly which lifts or deflects the trade winds.
We left Luperon mid afternoon and anchored out towards the mouth of the estuary to await nightfall. There was a lit buoy to show us the way as the water near the edges was very shallow, but as we came to leave at 8pm we discovered that the buoy was no longer flashing and we couldn't see a thing. We used the search light and negotiated our way out, hitting the bottom on a few occasions but luckily not getting into any serious trouble.
We spent 3 nights sailing along the North coast to the Eastern town of Samana and by staying relatively close to shore we had a steady breeze and little wave action so it was actually quite pleasant sailing. Finally the advice seemed to be taking effect.
The Mona Passage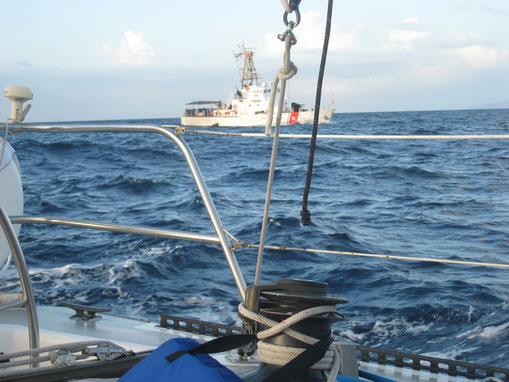 Bruce Van Sant also told us that to cross the Mona Passage, an infamous stretch of water, roughly 80 miles across from the Dominican Republic to Puerto Rico, we would have to wait for a weather window where the wind died down and no bad weather was forecast. As we left Samana the forecast was for NO wind and no rain, a first for the trip.
We left Samana at sundown and kept within the lee of the island, there was some light rain and quite a large swell, but the wind speed was quite low and the night passed uneventfully. At 10.30 the next morning the US Coastguard came into sight, the large "mother ship" making contact with us and asking us for details such as Captain's name, nationality, where we were heading and where we were coming from. All very polite, we thought nothing more.
Even though the wind was only around the 12 knot mark there was quite a swell and being lulled into a force sense of security we decided to open all the hatches to give the boat a bit of an airing. Big mistake. A rogue wave swamped the boat, going down the hatches and soaking all the beds and bedding. For some reason we thought it would be good idea to hang said items out to dry, until the next rogue wave drenched it all again. We were so busy fussing with our bedding we didn't notice the small rib pulling along side us at full speed. It wasn't until they spoke through a loud speaker and we jumped out of our skins that we spotted them. Pirates would have had no problem boarding!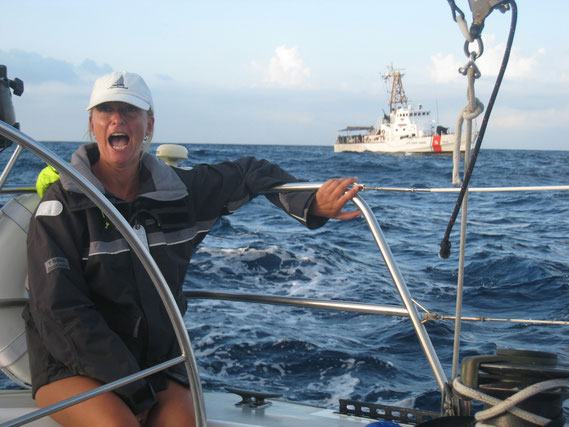 It was the friendly US coastguard again, just a few more questions. There were 6 officers in the rib and the "mother ship" was keeping a close distance on our port stern.
We were pleased to offer whatever they needed to know so for the next 6 hours the guys in the rib rode alongside only breaking off occasionally to relay the information to the "mother ship". I am not sure why they just couldn't radio us, I guess they were getting a feel as to whether we were dodgy or not. I actually felt quite sorry for them. It didn't look the most comfortable of rides and they were getting quite wet. We got so used to them being there in the end that Emma even cooked dinner and we ate whilst they shouted the odd question across the waves. I guess the area is known for drugs and people trafficking so we just thought they were being extra diligent. Little did we know.
"Call this number when you get to land" was their final instruction, and off they went.
As it got dark we came into the lee of Puerto Rico, I was at the helm and this time I was a bit more with it. I could hear a boat zooming toward us and I could just make it out in the dark. No lights so I instantly became concerned. The others came up on deck and as they did so they boat came up from behind and put on flood lights that blinded us all. It was the Puerto Rican coastguard, not enough that they have the US coastguard. Again we were asked the same questions as before and then sent on our way.
It had been an exhausting trip and by the time we got into Ponce Yacht Club in the pouring rain we had been on the go for 38 hours.