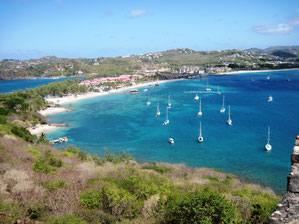 Morning or Afternoon departures

No experience necessary

A great adventure tour

Do as little or as much as you like.

Maximum 8 guests

Fun for the whole family
This is a real hands on sail experience
Rodney Bay is the perfect playground to discover the thrill of sailing and racing in a fun and safe environment. With Pigeon Island situated in the north of the bay and the Barrel O'Beef rock acting as a natural marker in the south, the bay is perfect to learn the basic skills of sailing and to practice those skills on one of our excursions. Start the day with a short introduction to our race yacht, Papagayo, with a run through of all her safety features and procedures. Our highly trained crew will then familiarise you with the equipment that we have on the yacht and the different aspects of sailing including hoisting the main sail, flying the jib, winching and trimming the sails and taking the helm of the boat under guidance from the skipper and crew. You can then work as a team to sail the yacht around the bay. Of course if you do not wish to get too "hands on" there is always the option of sitting back and relaxing whilst others take control..       
Beat the Clock
 To add an extra dimension to your sailing experience you can compete with or against your family and friends in a time trial race. After learning and practicing your sailing skills you can join a team and complete a race circuit around marker buoys clocking a time and then seeing if your time can beat that of your fellow crewmates in the other team    
Morning experiences will last from 9.30am until approximately 12.00 pm
Afternoon experiences will last from 2.00pm until approximately 4.30pm
Bring with you sunglasses, sun protection, a hat.
Water and soft drinks provided