Chartering a yacht can be expensive so our aim is to make sailing for the day or to other islands in the Caribbean chain more affordable. Book an individual berth and so cut the costs of a full yacht charter.  Papagayo is a race yacht and therefore does not have individual cabins, but bunks which are more than comfortable. Shower facilities are available or take a shower al fresco on deck. It is a fun, camping style experience.
To see our yacht please go to Photo's of Papagayo 
Overnight to The Pitons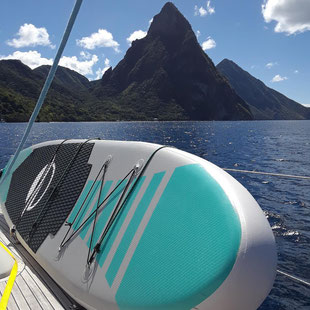 Sail down to the UNESCO World Heritage site of The Pitons, two volcanic spires rising from the depths of the Caribbean Sea. The 3 1/2 hour sail passes the city of Castries, the hurricane hole of Marigot Bay and the deserted beaches of the West coast. The approach to the town of Soufriere is dominated by the impressive twin peaks of Gros and Petit Piton. 
The Ultimate Challenge: Petit Piton
Don't let the name deceive you. At 743 m (2438 ft), Petit Piton maybe the smaller of the two, but the more arduous climb. A near vertical climb, pulling yourself up using vines through rock crevices, this hike is not for the faint hearted.
The Extreme Challenge: Gros Piton
Set off early after breakfast on board for the 771 m (2530 ft) hike up Gros Piton. A guide will escort you to the top for breathtaking views which on a clear day include St Vincent to the South and Martinique to the North.
The Serene Challenge: Tet Paul Nature Trail
Situated between the Pitons, this guided walk takes you through farmland and trails where the guide will inform you of the flora and fauna. Views stretch before you 360 degrees, across the villages of St Lucia and the neighbouring islands. The real gem is the view across the Pitons.