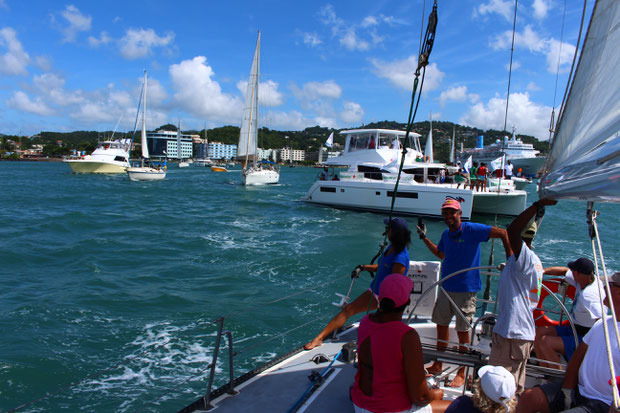 There is always an excuse for a party on St Lucia, and what better mix for a Sunday than a boat "race" and a few drinks to celebrate the start of the Atlantic Rally for Cruisers (ARC) 2017.
With a crew of 8 we headed out of the marina in Rodney Bay and joined the other boats as we headed down to Castries. The trade winds have yet to kick in and we were a little worried there wouldn't be enough wind to sail, but luckily we had a very pleasant 16 knot breeze to take us on a nice beam reach sail down to the capital.
Arriving with plenty of time for the midday start we decided to tack down the harbour channel after getting clearance from the lighthouse that no aircraft were taking off across the entrance to the harbour. The crew were put to work, having not sailed for a few months they were a bit out of practice.
We joined the catamarans, monohulls, speed boats, J24's and hobies that had congregated in Castries harbour. Plenty of loud music and rum was flowing on the party boats as we waited for the gun to trigger the start of the race.
I say race in the loosest terms as racing against motorboats and yachts under engine doesn't really work, but as the old joke goes, "What do you call two yachts on the water"? A Race!
We motor sailed out of Castries with the wind behind us, then let the jib fly as we all rounded the entrance and out of the channel.
It was a great close haul sail back with many yachts racing each other. We got into close quarters with some friends of ours on a J24, not normally a yacht we would race against but a great deal of fun.
I am not sure where we finished, but when you are sailing alongside a drilling barge, I don't think it really matters.