We finally sailed out of St Petersburg in glorious sunshine for the Florida Keys. Local knowledge had told us that we could cut through the Keys at Marathon meaning we wouldn't have to traverse around Key West. The going was good, as there was no wind we gave the engine a good testing. We anchored just outside the Everglades and got some rest as we could only go through the Keys in the day due to the very shallow waters and our 7ft keel. Even coming through the channel we managed to hit the bottom, freeing ourselves after about 5 minutes. We stopped off for fuel and a little lunch and I managed to call home to wish everyone a Merry Christmas.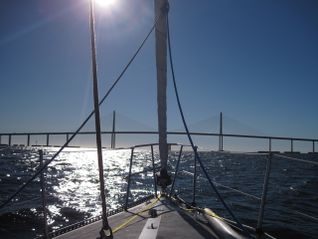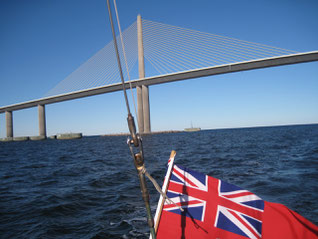 The weather was looking calm to cross the Straights of Florida to Bimini so we headed off in the late afternoon and even though the seas were a little high the wind and crossing we were relatively calm.
During the night whilst I was on watch the wind died down so we decided to put the engine on. I accidently put the throttle into reverse and there it stuck. Somehow we managed to get it back into position but once the engine was running we realized that none of the electrics were working. We could see nothing with the torch light so we carried on our way and prayed that I had nothing to damaging to the engine or steering.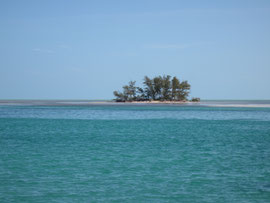 By Christmas Day morning we could see the clear blue waters and white sandy beaches of Bimini. We moored in an idyllic little marina, took a shower and slept on the small man made beach at the marina beneath palm trees.
Ben found the problem with our electrics, the power connector cable had disconnected and snapped so we just needed a new one, much to our relief. Being Christmas Day nothing was open so we had to wait until the following day to find the part.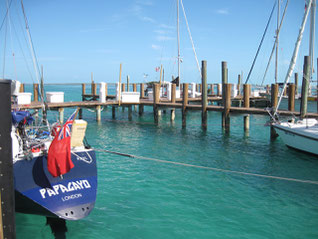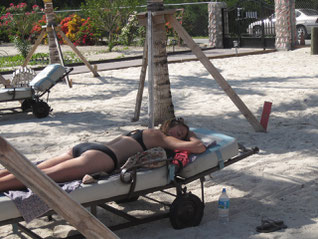 There were a few other yachts in our marina, a guy from Canada who also happened to be a spear fisherman and a yacht with 2 Norwegians and a Mexican onboard that had also been out spearing and had come back with lobster. It was suggested that we all get together and have Christmas dinner together; we took potatoes and coleslaw which we thought a pretty good swap for fresh fish and lobster.
Just because we were on a small island didn't mean we went without gifts. Chocolates, celebrity magazines and a Taylor Swift calendar, who could ask for more.
It turned out that the other two yachts had been bought for a small price in Florida and sailed across the Straight with their owners having very little experience of sailing. I guess sometimes ignorant really is bliss. After dinner we headed next door to the local nightclub where we drank cocktails and danced the night away on the sand floor.