Posts tagged with "Dec2012"
27. December 2012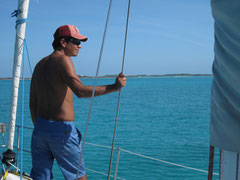 Next stop Nassau, the capital of the Bahamas for a stock up of fresh supplies. Also on board was an extra crew member, Alberto, the Mexican from the other boat had decided to join us as his 2 crew mates had gone back to Norway and as he lacked knowledge to sail by himself he thought he may as well come with us. I think Emma may have helped the decision! On leaving Bimini he dropped a hook and within 10 minutes he had caught a fish. Sashimi for dinner. Unfortunately this was to be his one and...
22. December 2012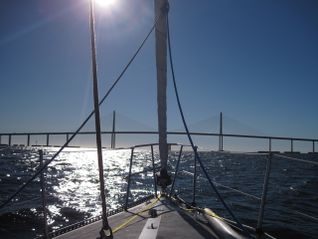 We finally sailed out of St Petersburg in glorious sunshine for the Florida Keys. Local knowledge had told us that we could cut through the Keys at Marathon meaning we wouldn't have to traverse around Key West. The going was good, as there was no wind we gave the engine a good testing. We anchored just outside the Everglades and got some rest as we could only go through the Keys in the day due to the very shallow waters and our 7ft keel. Even coming through the channel we managed to hit the...