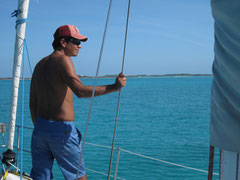 Next stop Nassau, the capital of the Bahamas for a stock up of fresh supplies. Also on board was an extra crew member, Alberto, the Mexican from the other boat had decided to join us as his 2 crew mates had gone back to Norway and as he lacked knowledge to sail by himself he thought he may as well come with us. I think Emma may have helped the decision! On leaving Bimini he dropped a hook and within 10 minutes he had caught a fish. Sashimi for dinner. Unfortunately this was to be his one and only catch, not that he gave up trying. 
We arrived in Nassau within 24 hours passing the enormous cruise ships and docking at Nassau Yacht Haven marina. Here we learnt that a storm was approaching and continuing on would be unwise. Another delay in our journey. Both myself and Ben had been too Nassau many years before and we remember being not too impressed with the place. We took a walk over the bridge to Paradise Island to take a walk around the expansive Atlantis hotel, but unfortunately you can no longer walk around the aquarium for free as we did last time. As the weather was not too good lazing on the beach wasn't really an option either, so time was spent preparing for the onward journey and a bit of reading in between. There was a weather window on January 1st so for the first time in about 20 years myself and Ben did not really celebrate New Year's Eve, only having a few beers as a celebration and in bed by midnight. Emma and Alberto decided to go to the carnival but it didn't start until 1am and in the end it kicked off late. Normally I would feel like I was missing out but on this occasion I was pleased with my decision.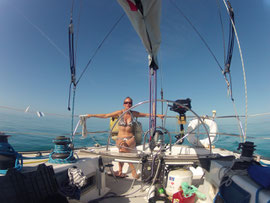 We sailed on from Nassau down towards the Exhumas stopping off overnight as the Bahamas have very shallow water and it was impossible for us to sail on the leeward side of the islands during the night. We stopped off on Highborne Cay and Compass Cay, taking the dinghy out to explore the deserted beaches and snorkeling some of the waters.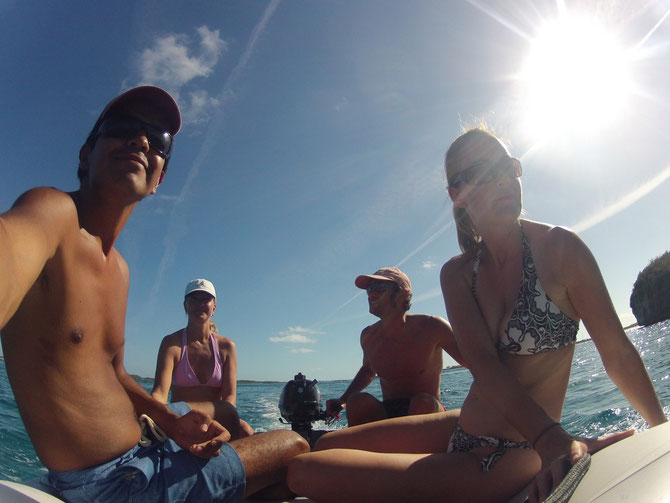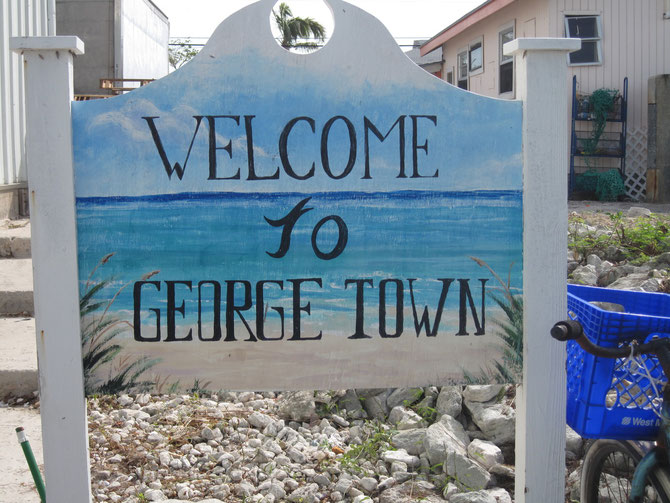 We arrived into Georgetown and decided to stay there for 2 nights as we heard it was a bit of a mecca for yachties. Indeed this was the case with hundreds of boats anchored in the shallow and protected water just off of StockingIsland. It was a great place to unwind and enjoy the sun and the beach but we knew we had to press on so after two days we took a sail along to the Northern tip of Long Island and stopped the night in CalabashBay.
The beach looked amazing from where we  had anchored and even though it was a bit of a chore to launch the dinghy we thought it would probably be the only time we would ever come here so we really shouldn't be so lazy. I am so glad we did. This has to be one of the best beaches I have ever been on in my life and I am lucky to say that I have been on many fantastic beaches. There wasn't a soul on it, the sand was pure white and the sea was the most gorgeous greens and blues. 
Again we heard that there was a front approaching and we may get stuck for a few days so we continued heading down to the South of Long Island to Clarence Town, leaving at sun up for a fast a lumpy sail down the East coast. The town (a small holding of a few very basic food shops and one small hotel), plus a new marina; was situated on a large bay, protected on the East side by a reef. We tucked in here and set the anchor. Three more boats (one Swiss and 2 French joined us) and we settled in for the night to see what the weather would bring.
The wind was strong as dawn the next day but the two French boats upped anchor and headed off. Did they know something we didn't, maybe we should go to. Then again maybe they were making a mistake, best stick to our own plan and not worry about others. Three hours later they arrived back in the bay, having been battered by the waves and wind, not able to tack or get anywhere.
Long Island would be our base for the next 7 nights as the wind howled and howled and howled. It would get so loud sometimes we would have to turn on the instruments out of curiosity just to get a reading. On occasion it would hit 50 knots. The dinghy ride to the shore was long and on the way back we would be against the wind. We would wear our swim wear for the journey as we would be soaked within minutes.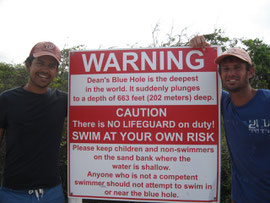 We hired a car for the day and explored the island, although there wasn't a great deal to see apart from it's natural beauty. There were some amazing beaches and there is one of the deepest blue holes in the world where free diving championships are held.
At times it felt like we were never going to leave the island, and Alberto who was meant to be staying with us until Dominican Republic decided to leave from here as he was unsure we would make it in time.. And so we were back to a crew of 3.