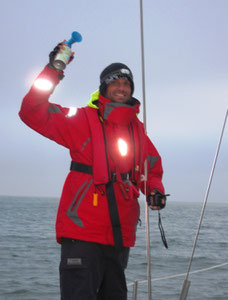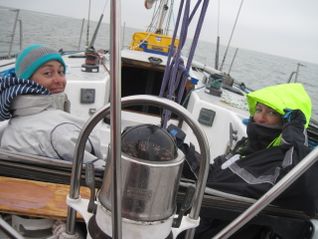 As dawn broke the fog closed in and we entered into the shipping lane that would take us into TampaBay, armed with fog horns and in full wet weather gear. It was freezing. On arriving in St Petersburg we immediately tucked into a huge breakfast and got cleaning the boat, avoiding people until this was done as we had not showered in 7 days. Then began the job of finding people to fix the broken things. By the end of the afternoon we had someone who was able to fix the autopilot, a relatively easy and inexpensive job. 
The engine was becoming more unreliable on starting so we got a mechanic in to take a look and in a very short time he gave us the worse news possible. There was no hope, the engine was finished. It would not be worth spending the money, and he very much doubted he would be able to fix it. The best option was to scrap it and buy a new one. So that was $6000 down the drain. We got a second and then a third opinion, but both with the same result. Christmas was coming and all the factories would be closing for the holidays so a quick decision had to be made. We wired money over from the UK and moved out of the marina into the boatyard, becoming neighbours with the rats that would scurry on deck as soon as it got dark.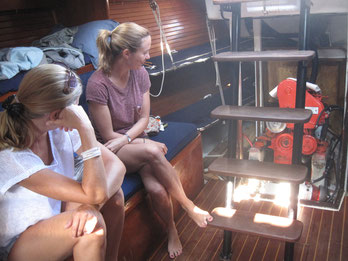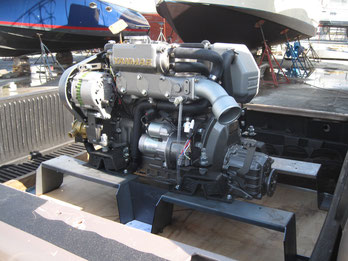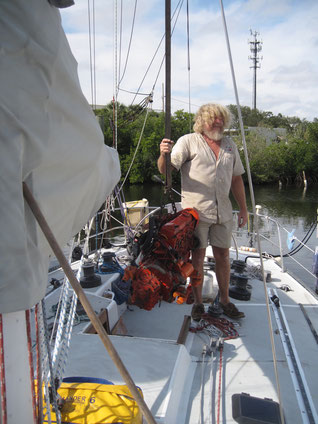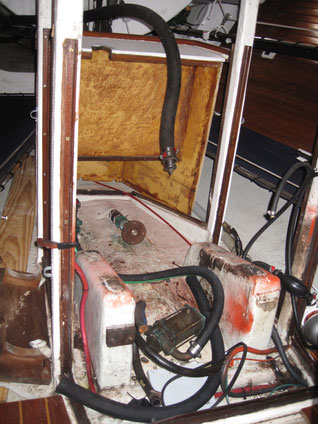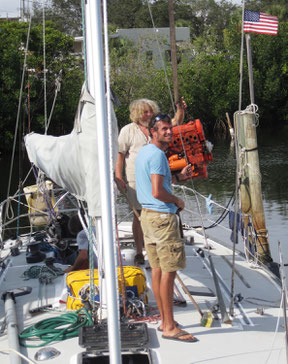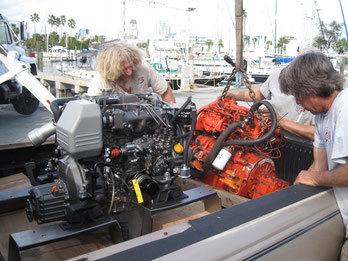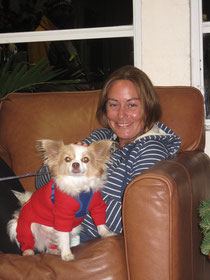 A lot of time was spent catching up on the internet in the Captain's Lounge where we befriended some of the long term residents of the marina. Luckily for us the manager had given us a great deal for our stay so the cost of the marina was one thing less to worry about. Emma even managed to become friends with a dog by the name of Blue, even though on meeting her two years previously she had been petrified of dogs and had to have hypnotherapy to be able to be in the near vicinity.
St Petersburg is one of the very few towns in America where you don't need a car to get around. It felt very safe and all shops, bars and restaurants were within easy walking distance. We treated ourselves to a few nights out, somehow gate crashing an 80's party on our first weekend there and trying out the delights of a few of the nightclubs.
The town is also home to one of the largest collections of Salvador Dali's artwork, housed in a custom built gallery designed in the style of one of his "crutches" complete with a melting clock bench. We were all duly impressed.
It soon became apparent that Emma was never going to make it to St Lucia for her December 28th flight back to the UK so it was agreed that she would stay on for longer, changing her flight back to February 4th.
In all we were in St Petersburg for a total of three weeks, leaving on December 22nd.
Christmas may very well be spent at sea.