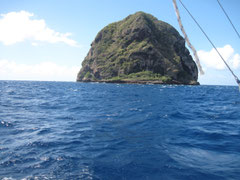 Diamond Rock is an uninhabited island 3 kilometers from Pointe Diamant at the Southern end of Martinique, getting its name when, at certain times of the day the sun shines on the rock giving off reflections reminiscent of a precious stone. During the Napoleonic Wars the rock was taken over by the British and commissioned as a sloop under the name HMS Diamond Rock.
The caves on the rock acted as sleeping quarters for the men and a hospital was also established at the base to put sailors who were recovering from fevers and injuries.
The guns on the Rock completely dominated the channel between it and the main island, and because of their elevation, were able to fire so far out sea as to force vessels to give it a wide berth, with the result that the currents and strong winds would make it impossible for them to reach land.
Read More